Advanced Engineering and Heavy-Duty Design
---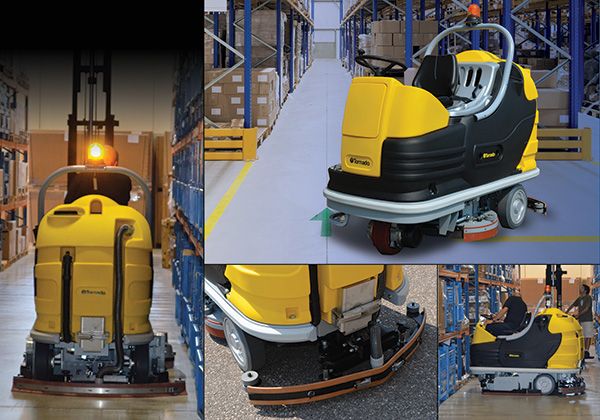 Tornado's new BD 40/66 and BR 40/66 ride-on scrubbers not only further extend our auto-scrubber offering, but is designed to meet the toughest cleaning applications. Available in disc and cylindrical options, with 66 gallon recovery tanks and a heavy-duty body design, these scrubbers are the answer to your toughest cleaning challenges.
About the BR 40/66
Key Features
Pre-sweep tray comes standard for small debris pick-up
Ideal for large areas, warehouses, manufacturing, healthcare and education facilities
Advanced engineering in the interactive display
Integrated side brush with its own water supply
Powerful dual vacuum motor system
The environmentally preferred BR 40/66 offers the latest modern enhancement—cylindrical brush technology. The use of cylindrical brush technology delivers low moisture cleaning design and deep scrubbing through concentrated brush speeds of 933 RPM and 4-6 times more contact pressure than rotary brush scrubbing, handling any flat or structured floor surface with ease.
Training Videos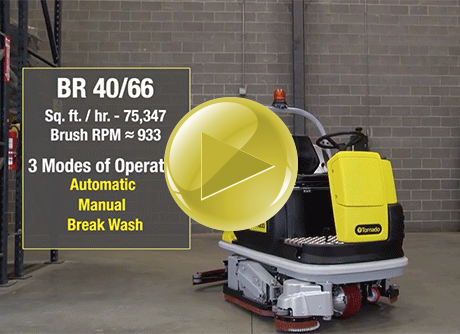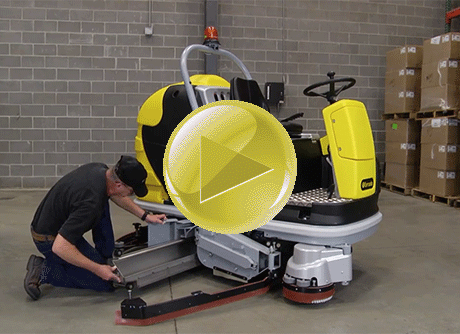 ---
About the BD 40/66
Key Features
40 inch cleaning path
62 gallon solution tank
Optional side-brush available for detailed wall cleaning
Automatic operation control mode and squeegee retraction when in reverse
Heavy-Duty industrial design allowing these units to tackle the toughest environments
The automatic operations of the BD 40/66 and heavy duty frame are perfect for industrial cleaning facilities. The BD 40/66 comes standard with high performance options such as a long life, heavy duty battery pack, a safety seat switch that only allows the machine to operate with an operator on the unit, a roll bar with amber safety strobe light, break wash mode, two speed selection switch and much more!
Training Videos
Cleaning With Auto Pilot
Dual-Vacuum Motors
Automatic Mode
Sustainability with Cylindrical Brush
Innovative Electrical Control System
---
Additional Information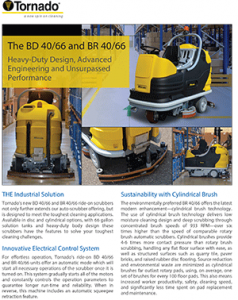 The BR and BD 40/66 Ride-on scrubbers are a great solution for any industrial facility between 100,000 sq ft and 500,000 sqft, or similar sized facilities within the education and healthcare markets. Use the form on the right to schedule a product demonstration in your facility.
One of the benefits of the 40/66 is the short time required train an operator to use the AUTO function. The AUTO function does it all for you while the MAN allows for various other types of cleaning, i.e. double scrub functions. The BREAK WASH allows for transport of the machine without having to use any other functions.
For additional product information including detailed product specs, images and brochures visit the links below.