You get ONE chance to make a first impression.
What message is your facility sending if muddy carpets, streaked windows, or a dusty reception desk greet customers? Facility cleanliness is a reflection of the business as a whole, as well as the cleaning crew responsible for its upkeep.
"Dirty floors and bad odors don't give a good perception," says Eric Hickman, service manager and equipment specialist at New System, a full-service janitorial supply company in St. Louis, Mo. "Customers interpret that the building owner doesn't care about the building, and they may question what else are they don't care about."
Customer perception of facility cleanliness is more than an aesthetic issue. It can be a matter of dollars and cents.
"You could lose customers," Hickman says. "If people walk into dirty bathrooms or a filthy lobby, they may immediately walk out and you won't capture that business."
---
The Solution: Four Steps to a Clean Facility
Left unchecked, even a little dirt in a facility can turn into a mudslide of problems.
"It tends to snowball pretty quickly," Hickman says. "If you don't stay on top of the cleanliness of a building, it will take a tremendous amount of labor to get it back. And that means money."
Want to be certain your buildings make guests feel welcome? There are four steps to facility cleanliness, Hickman says.
Step 1
The first is having enough custodial staff. Unfortunately, tight budgets have left many cleaning departments shorthanded.
Although every inch of the building should be on the cleaning crews' radar, when staff is limited give the greatest attention to the source of most complaints—the restrooms. Also, keep an eye on areas most frequented by customers, which is typically outside and inside the front door.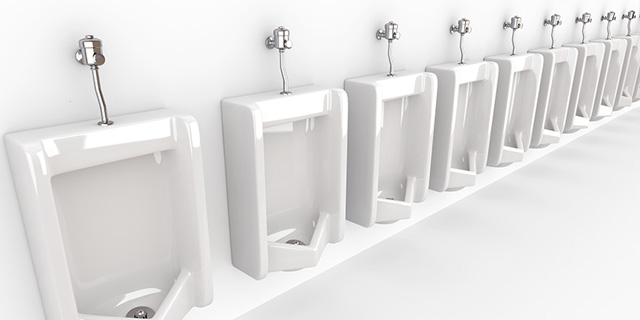 "When short staffed, it's also critically important to make the people you have more efficient," says Sean Martschinke of Tornado Industries.
Here's an idea,

If you're running a tight budget, consider eco-friendly options that offer money savings advantages

Green Equipment
Step 2
The second step, then, is stocking the janitorial closet with the right equipment. Tools of the trade include the basics, starting with chemicals. Money savings can be found in double-duty products, like a chemical that cleans glass at one dilution and sanitizes surfaces at another.
"You can invest in one product versus two or three," Hickman says.
Custodians also require a variety of hand tools and equipment to keep a facility clean. In addition to microfiber wipes and dust mops, they'll likely need a vacuum. Hickman recommends an upright or backpack vacuum with a HEPA filter, which will capture and contain dust better than an old-style bag model "that delivers a cloud of dust when you turn it on," he says.
When investing in equipment like auto-scrubbers, it's important to focus on long-term labor savings, Hickman says. That means buying the piece of equipment that best fits the productivity you're looking for, as well as it's manuvers in the spaces that need to be cleaned. Essetnaitially matching the right sized equipment to effectively clean your space.
With today's technology, there's no excuse for equipment to fall short of industry standards.

Reduced labor expense;
Improving sustainability;
Minimize hours worked;
Maximized cleaning productivity.

Calculator
"If you can spend $5,000 or $10,000 on a piece of machinery that can do the job in half the time, you can get the desired results and save labor dollars," Hickman says.
Custodial departments facing budget constraints can talk to a distributor about leasing options for large equipment. This option allows them to use more efficient tools without a hefty capital expense.
Step 3
Janitorial tools are only as effective as the person using them. Training is key.
"Training is key to success of any cleaning program," says Sean Martschinke. "You can have the best equipment in the world, but if your people aren't trained to use them properly, you won't have a clean building."
A good distributor will build a working relationship with its customers, which includes ongoing training for current and new employees. This should cover everything from chemical usage to cleaning frequencies.
"Every building is different and requires different cleaning procedures, frequencies, and equipment," Hickman says. "We want to help our customers get the best work from their custodians, making them both efficient and safe."
Step 4
Finally, clean for health, not just to mask odors. Dousing a restroom with fragrances that smell like roses or cherries won't fool most customers.
"Cleanliness is more than just odor," Hickman says. "You want to make it healthy."
Cleaning for health means cleaning every part of a building on a regular frequency. It also involves sanitizing touch points to prevent cross-contamination. A proactive cleaning schedule prevents dirt and germs rather than reacting to them after they appear.
"If you clean for health, not smell or appearance, then the facility cleanliness will follow," Hickman says. "You want to create a safe environment that shows you care about the well-being of your employees and your customers."
---
This Restaurant Improved Customer Perception and Saved Money

Seven Locations;
Hard to Clean Areas;
Grouted Surfaces;
Carpeted and Wood Floor Surfaces;
One Machine.
---
What do you think?
Does facility cleanliness affect customer perception?
Can it affect your bottom line?
Share your thoughts in the comments below.