When it comes to service oriented businesses, location is often an important consideration. Many businesses can only cover a certain service area, so requests that come in from outside that boundary may not be particularly useful. On the other hand, bringing in business from within that area is critically important.
That is why many businesses use localized keywords on their company website as part of an overall local SEO strategy designed to bring in locally targeted search engine traffic.
---
Understanding Local Search
The ranking algorithm that Google uses for its local map results is independent from the algorithm it uses to rank standard web results. Although those two algorithms have become more similar over the past few years, and probably will continue to do so, it is still possible to rank well for local search terms but not for normal search terms (and vice versa).
Ideally, of course, you want your business to show up for both types of searches. Typically, the recommended approach is to start out by focusing on ranking well for local results. It seems to be easier to rank locally first and then cross over to the normal results than the other way around.
You can see the power of this sort of technique in action by searching for vehicle brands. Jeep, for example. No matter where you may be, if you search for "Jeep" you will probably see that a local Jeep dealer or two is showing up near the top of the results. In some cases, local dealers may out-rank the parent brand website for searches in certain areas. Generally speaking, however, you will see Google's local results box near the top of the page – like this: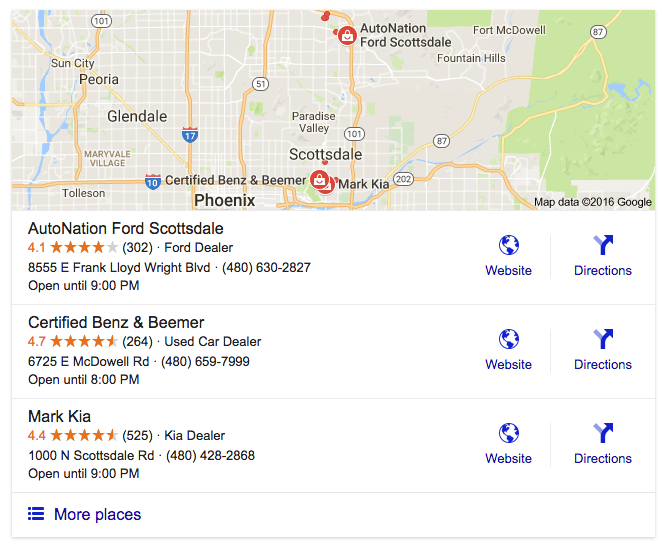 Regular web results will follow the local search box. However, those results may also be impacted by local search optimization, as you can see with Jeep: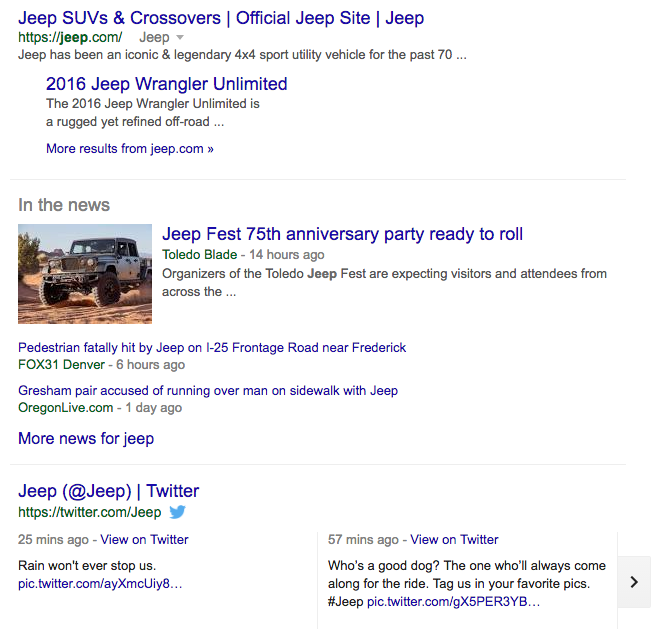 Here, Google is displaying the Jeep.com site up top, some news results, and then returning to those localized results again below. Note that Airpark Dodge Chrysler Jeep was #1 in the mapped results, then appears again at the top of the normal results. That is happening because Google can see that the browser location is currently set to Phoenix, AZ and it knows that searches for "Jeep" typically have a heavy local focus, even without any explicit mention of a location being included in the search query itself.
The rise of mobile search plays heavily into Google's reasoning for that sort of ranking choice. A large percentage of local searches come from people out on their phones, and mobile users are generally used to searching without location qualifiers and expecting the search engine to know where they are.
---
So how do you find the right local keywords to use on your site?
The process for finding local keywords is essentially the same as it is for finding any keywords. If you access to a Google AdWords account (which is free to sign up) you can use the Google Keyword Planner tool to search for commonly used keywords.
The Keyword Planner appears under the Tools menu and allows you to search for keyword ideas. Enter a few starter keyword ideas, and it will bring up a list of related terms, complete with traffic and competitive data for each keyword. The competition numbers are based on the number of advertisers bidding on those keywords in AdWords. The traffic numbers show an averaged monthly search volume.
To localize your search, enter your keywords as usual and then edit the location targeting option in the Targeting section of the search form (the default is set to 'All locations'):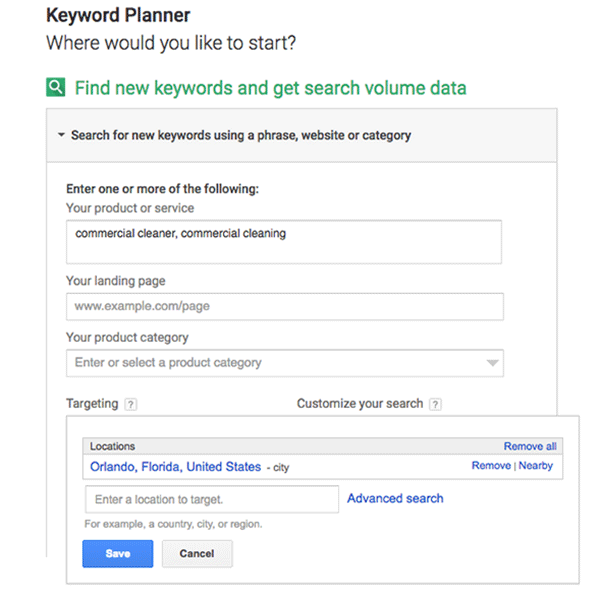 Note: When you select a city, as above, Google will limit your search to the exact boundaries of that city. It's generally a good idea to expand that limit a bit by clicking the "Nearby" link in the location selector and adding some nearby areas.
Once you have your locations picked out, continue on with your search to find keywords that are being used in that area. You may find that the search volume numbers showing up appear to be very low. Don't worry too much about that, it's partly because of the way that Google normalizes and averages the data (it seems to bear only a loose resemblance to actual numbers in practice). If you are in a reasonably sized metro area, you probably don't have much to worry about.
Even without that tool, you can generate some good keyword ideas just by thinking about the way you would search for your own product or service. Expand those ideas further by asking a friend or relative (who is not in your industry) for some of the searches they would use to look for your business. In addition, when you do a Google search, check down at the bottom of the results – Google often displays related searches there, which sometimes come in handy.
Once you have a basic keyword list in place, just add typical location modifiers to create a localized list.
---
Typical Local Keyword Patterns
"Keyword" + "city name" – i.e. commercial cleaning orlando
"City name" + "keyword" – i.e. orlando commercial cleaning
"Keyword" + "city st" – i.e. commercial cleaning orlando fl
"City st" + "keyword" – i.e. orlando fl commercial cleaning
"Keyword" + "city state" – i.e. commercial cleaning orlando florida
"City state" + "keyword" – i.e. orlando florida commercial cleaning
---
What to do with Your Keywords
Now that you have found a good set of keywords related to your business and localized to your service area, you are ready to put them to work. The main guideline here is to think about your business in local terms, and apply that to the verbiage you use on your site. So, if you would describe your business as "the leading commercial cleaner", add the location – "the leading commercial cleaner in Orlando, Florida." Give a list of suburb cities that you cover, in addition to the metro area.
It's important to mention your service, as well as your location in certain key locations on your website pages. In particular, page titles and header tags (typically used for headlines). The "Jeep" search results provide a good example. Let's look at these two in particular:

The blue headline text there comes from the Title tag on those pages. You can see that they describe the business "Dodge Chrysler Jeep Dealership" and the location "near Phoenix". The second page uses "Scottsdale, Phoenix Area" which is a particularly clever trick since it includes the suburb city they are actually in as well as the metro. That will help Google to figure out where they are, as well as searchers themselves.
One last word of advice: take it easy. Over-using keywords, or locations, can be seen as a spammy technique and may do more harm than good. Try to use natural language while being deliberate about including relevant local keywords in the text of your site. With a bit of luck, that will help direct local buyers your way and save you the hassle of dealing with inquiries you can't serve.
---
Get Your Hands on Our Latest Freebies
Sign up for our newsletter to claim your free copies. We keep a healthy, spam free email list to let users know about new content.