Turnover.
Trust us, you're not the only one dealing with this problem.
According to a recent industry survey, the average turnover rate in the cleaning industry is a whopping 200%, which essentially boils down to hiring an entire workforce twice per year. This can not only affect team morale, but recruiting, onboarding, and training new employees is expensive and time consuming as well.
That's why we at Tornado are tackling this problem head-on by offering intuitive, high-performance cleaning equipment to make even your newest employees a Day-One Pro. In fact, we strive to make it so all of your employees actually enjoy their work, which is proven to increase productivity and improve your bottom line.
How you ask? Let's get to it.
Easy to use. From plug-and-play compact scrubbers, like the Vortex Multiwash, to the yellow touchpoints on the CVD 30, Tornado builds its equipment with the user in mind – tech friendly and easy to maintain. As you well know, training time and labor hours are precious. Tornado wants to make sure even your newest team members are able to knock out the job with confidence.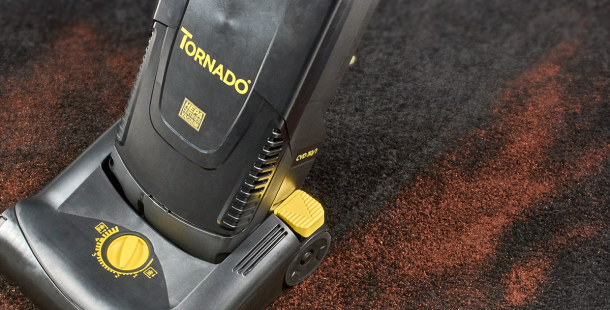 High Performance. Just because a machine is easy to use doesn't mean that it isn't a high function, high performance product. Tornado's equipment is engineered to get pro results from the start, regardless of experience level.
Take the BR 16/3 for example. It is easier to use, more compact, and more effective than your standard disc scrubbers – unlike the bigger, complicated walk-behind or ride-on machines. Your employees can just plug in, squeeze the handle controls and go. Its cylindrical brush technology and down pressure take the mystery out of eliminating dirt and grime from tile grout, allowing even a beginner to deliver a professional-looking, deep clean.
Move Freely. Quick question – how many times do you think your employees have to stop what they're doing, unplug their machine, and then plug in the same unit in a different area to resume cleaning? This isn't just irritating, but hazardous to the user and other team members as well.
So, why not go cordless? Tornado makes cordless vacuums, like the Pac-Vac Roam Backpack and the lightweight CK 13/1 Roam Upright, to provide your employees with ultimate freedom and flexibility. Just flip the switch and you're ready to roll. Recharging is easier than ever with the color-coded battery display.
Versatility. What is more time consuming than switching machines in the middle of a job? Tornado makes it so your employees only need to use one, easy-to-handle machine to tackle a variety of surfaces and tasks.
The Taskforce 20 Trot-Mop is durable enough to handle dry debris and liquids including scrubbing and stripping solutions, yet portable enough to easily transport room-to-room with its installed mounted trolley. Another example is our Vortex MW Multi-Purpose Scrubbers, which are just as effective on hard surfaces like vinyl tile, brick, slate, granite, marble, rubber floors and even escalators, as they are on soft surfaces like commercial-grade carpet and entrance mats.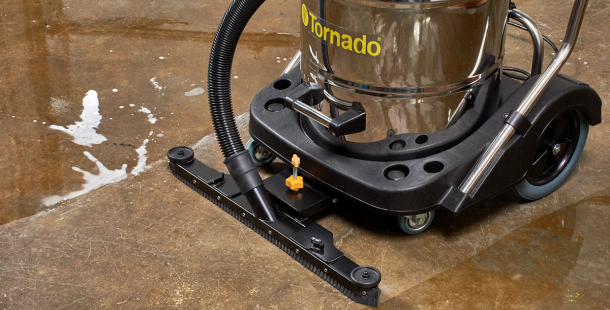 Comfortability. Put simply, a comfortable worker is a more productive worker. That's why Tornado partnered with Deuter, a recognized leader in backpacks and hiking equipment, to develop the Pac-Vac Aircomfort Backpack Vacuum.
The Pac-Vac's mesh back panel allows constant air flow from three different directions, keeping your employee cool on the job. The five-point adjustable harness ensures a customizable fit for workers of all sizes, resulting in less fatigue and greater efficiency.
Bottom line – your employees are an enormously valuable asset to your business. Their daily success directly affects your overall success. And in order for your team to succeed on a daily basis, they require the equipment and engineering to clean like a pro, regardless of their experience level.
Tornado has your back. Let us help you tackle your turnover problem and make your employees shining stars from the first day on the job.