The biggest industry trade shows may have just ended, but it's never too early to start preparing for next year. In fact, those who have the greatest success exhibiting at an industry show are typically those who had the most advanced planning.
To make the most of your investment in an exhibit hall booth, use these eight expert strategies:
1. Set goals.
The only way you can determine whether a trade show was worth the expense is knowing what you hoped to accomplish. Choose some metrics you can later measure, such as the total booth visitors or leads, a dollar amount of sales, or a number of media mentions. Whether you have one goal or several, get clear about why you are exhibiting and what you want to achieve.
2. Choose wisely.
There are several shows at which you can exhibit. If you can't afford afford the time or money to be at all of them, you'll need to select those that are the best fit. When determining which show presents the greatest return on investment (ROI) opportunity, here are a few factors to consider:
Historical number of attendees

Attendee makeup (industry, career level, annual sales, etc.)

Number of booths in the exhibit hall

Attractiveness of show date and location

Amount of time dedicated to the exhibit hall

Support offered to exhibitors by event staff

Other events at the show that may attract crowds to the floor (or steal them away from the floor)
3. Advertise in advance.
If you build it, they will come is a bad philosophy for a trade show booth. Before you head off to the show, put out the word that you're exhibiting. Send an announcement email or flier to your customers, suppliers, and anyone else on your list who may be interested in the show. Also include the information on your company's website, via your newsletters, and in any other communication you have with your audience.
Tell everyone the dates and your booth number, and provide information on how they can attend the event. Make sure this advertising push is done far enough in advance that anyone interested will have time to sign up for the show.
It may also be a worthwhile investment to advertise in the event program, guide, or other literature. Conference attendees often peruse these materials during workshops or meals and may be more inclined to visit your booth if they're already familiar with your company name from these materials.
4. Be active on social media.
Once the show begins, step up your social media efforts. This free form of advertising is a great way to remind attendees where you're located (use the show's hashtag to help you get discovered). Advertise your social media channels at your booth to encourage new followers. Don't simply post and run, however. Use social media to strike up conversations with others at the show, and always answer any questions promptly.
5. Make your booth stand out.
If you're going to send the money to exhibit at a trade show, then don't skimp on your booth. This is your company's first impression with attendees, and your best tool for attracting visitors.  Invest in professional signage and handouts. Consider offering standout swag or buzz-worthy prizes. While this can cost a sizeable amount, they may be worth it if they grab attention and draw in the right crowd.
6. Provide valuable information.
Attracting a big crowd to your booth is pointless if you have nothing of substance to provide them once there. Start by training everyone manning the booth to offer a friendly greeting to anyone who visits. That means put away the phones, uncross the arms, and smile.
Create a script to help guide a strategic conversation. You want to find out about the attendee's goals and challenges. Ask questions and provide answers but don't overwhelm them with information. Have promotional literature to hand out and, if possible, offer hands-on demonstrations of your product or service. Talk about the value it provides, not just the features.
7. Capture leads.
The most important element of your booth is gathering warm leads. Make sure your employees know your preferred process for capturing leads at a trade show, whether that's a sign-in sheet or a business-card raffle. If possible, never let anyone leave your booth without first getting their contact information.
8. Follow up.
Create a system for following up with your trade show contacts. You'll want to send an initial email within 2 days of the event. The faster you reach out, the more likely your business will stand apart from the other exhibitors. Whenever possible, personalize your messages and provide valuable information related to their unique needs.
9. Measure ROI.
Want to know whether a show was worth it? Use the metrics you outlined in Step 1, above, to judge your success. Doing this after every trade show will help you focus your efforts in the next year on only those events that pay off.
---
Our Leasing Program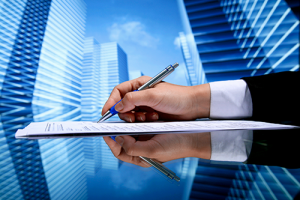 Although more than 80 percent of U.S. businesses lease equipment, according to the Small Business Administration, it remains a relatively uncommon practice in the cleaning industry. That means when it comes to choosing between buying or leasing, many facility managers and BSCs feel dazed and confused. In short, a lease allows users to make payments to a vendor to borrow a machine for a set length of time. When the contract is up, the user returns the equipment to the leasing firm. It's a fairly straightforward arrangement, but like most things, there are pros and cons.
---