Remember when a Barnes & Noble, Blockbuster, or Office Depot could be found in just about every shopping center in America? Like these troubled chains, independent jan/san focused distribution is undergoing major changes that could someday make it as irrelevant in the marketplace as brick-and-mortar booksellers, movie rental houses, and office supply stores.
In 1991, there were 24,000 independent jan/san distributors and today that number is down to approximately 4,000. Twenty years ago, local or regional firms that specialized in jan/san dominated the industry; today, traditional jan/san distributors find themselves competing with national MRO (maintenance, repair and operations) firms and even Amazon.
"The distribution side of the industry has been under attack for a number of years now, and it continues to evolve and change," says Mike Schaffer, president and CEO of Tornado Industries.
---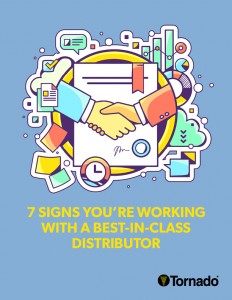 Download Our Free White Paper
Curious whether your distributor relationship is truly delivering? Ask yourself these seven questions.
---
Blame the World Wide Web…
Those wanting to find a scapegoat for the deterioration and dilution of jan/san distribution can start by looking at Google.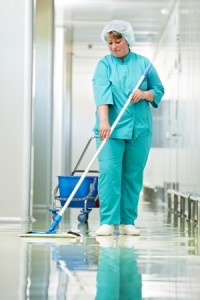 The Internet gave end users' instant access to unlimited information. This allowed them to quickly and easily research products, suppliers, pricing, and more to reach informed decisions on their own time and without the help of a salesperson.
"The power shifted from manufacturers, to distributors at one point, and ultimately to the customer or end-user," Schaffer says. "They hold the power today, and that's really where it belongs."
The Internet also opened the world to end-users. Buyers were no longer comparing apples to apples, but instead could compare apples to Amazon.
"In the early '90s, distributors were only competing against the guy down the street who did pretty much the exact same thing," Schaffer says. "As communication changed, businesses went from being compared to the closest competitor down the street to every business in the world and best practices in general."
---
…But Also Blame Yourself
In the new global landscape, distributors who didn't add substantial value to the channel were quickly exposed and began losing business at a rapid clip. Many were forced to consolidate to stay afloat.
"Part of the changes were perhaps unavoidable, but to some degree, and it isn't my intent to be unkind, they were self-inflicted," Schaffer says.
By the late 1990s, many distributors were relying heavily on manufacturers, Schaffer says, and handing off tasks they once handled—demos, sales, installation, and service, for example.
This opened the door for new players to enter the market. Generalists like MROs could just as easily rely on manufacturers for assistance to gain a foothold in the jan/san channel. It also allowed price-driven vendors to peel away market share.
"The consumer began to ask, 'what are you doing for me?'" Schaffer says. "Those distributors who survived were able to show and demonstrate real value. Those who couldn't lost out to large, national firms who may not be experts in jan/san, but are doing other things like shipping quickly, making ordering hassle-free, offering amazing return policies and on-line experiences."
In addition to the challenges presented by the Internet, the 1990s also saw a shift in the jan/san buyer. Decisions were being made less often by the people actually using the products and more frequently by white-collar executives concerned with budgets.
"That caught a lot of people in our industry off guard, and at the time, the sales force at many dealers were simply not as effective speaking with that buyer as they were with the actual user" Schaffer says. "The industry had some amazing product specialists, but many were ill-equipped to discuss return on investment, workloading, or other financial metrics that these new white-collar buyers were interested in."
---
The Future Isn't All Doom and Gloom
Jan/san distribution continues to grapple with competition and consolidation, leaving many wondering whether the industry will wither and die or find a new way forward.
"The industry has, and continues to go through considerable change, and you can look at as if the sky is falling or you can choose to view it as exciting and a time that is full of opportunities," Schaffer says.
The key to future success? A change in mindset. "Those who stay current and add value in the channel can actually grow their market share," Schaffer says. "Many of us come into our businesses and take off our consumer hat and put on our business hat and act like those things that are important to us as consumers aren't important to our own customers."
---
Distributors Who Go Above and Beyond Will Survive
Although face-to-face service is no longer an important selling point for many consumers, they do appreciate vendors who offer product knowledge and industry expertise.
Customers don't want a salesperson that is just an order taker (after all, they can place their own orders online). The real value is a salesperson who's a true partner in making their operations more effective and efficient.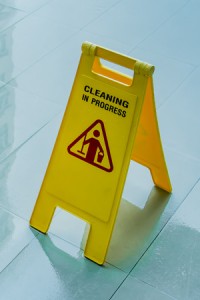 "Many of the remaining 4,000 distributors have never stopped doing an excellent job at providing value-added services and delivering outcomes versus simply delivering product," Schaeffer says. "The customer clearly gets value from these distributors, otherwise they would be buying from another source."
Customers not buying from Amazon or MROs generally expect an exemplary level of customer service from jan/san distributors.
Customers want abundant information to help them make fact-based purchases that will boost their bottom lines or provide other tangible benefits. They want their distributors to not simply react to their needs, but anticipate them and proactively offer solutions. They expect their vendors to stay on top of trends and show them new products that will solve future challenges before they arise.
Consultative selling is no longer an option for distributors, it's a necessary tool for survival.
---
Invest in Technology or Die
Customer service isn't enough in today's global marketplace. Successful distributors are also those that make it as simple as possible to do business with them online. After all, one of the biggest reasons people buy a wide variety of products from Amazon is convenience.
Unbelievably, some jan/san distributors still don't have websites and even fewer offer robust online shopping. Perhaps less than half provide an option for mobile shoppers.
Studies show that consumers who can't find and buy what they want on a website will simply move on to another site. Only those distributors with comprehensive, user-friendly e-commerce sites can continue to compete with massive online retailers.
Like other B2B industries, the jan/san market is getting younger. Millennial buyers, ages 20 to 35, have different purchasing patterns than their older counterparts. The use social media and vendor websites to conduct research, and are accustomed to purchasing online (often with a smartphone or tablet).
"Distributors need to ditch the status quo," Schaffer says. "Surviving and thriving in the modern marketplace is certainly possible, but it requires a change in patterns and an investment in technology and training. Rather than fighting the changes, it's time to embrace them."
---
Increase Profits & Productivity with Your Equipment
Tornado Industries does more then sell equipment. We help solve facility cleaning challenges. Let's talk about your cleaning challenges in person.