Just two decades ago, very few people in the janitorial industry had ever used (or even heard of) cylindrical floor machines. Traditional rotary buffers with a single disc were the standard tool of choice for floor care. Times have changed.
Today, cylindrical brushes are more popular than ever. The change is due in large part to Tornado Industries, which helped pioneer the technology in North America. Although awareness and use of cylindrical brushes has greatly expanded, there are still many in the business who don't fully understand the technology.
In this question-and-answer post, learn more about cylindrical brush scrubbing from Doug Berger, Tornado's Eastern Division Sales Manager.
Q: What is your experience with cylindrical-brush technology?
A: "When I started in the business 23 years ago, there was no focus on cylindrical brushes. The traditional side-to-side floor machine was always a disc brush or pad. The idea was the disc provided more surface contact with the floor. About 15 or 20 years ago—long before I joined Tornado as an employee—I noticed Tornado moving toward the cylindrical brush systems. Tornado was a leader and an innovator in cylindrical. Once I learned more about the technology, I realized it's far superior to pad technology."
Q: Brushes cost significantly more than pads. Why should buyers look past those upfront costs?
A. "A brush is so durable that it can last a year or more. Many pads last a few days or need to be replaced every couple of hours. The upfront cost on a brush may be $365, but if it lasts a year and you amortize the cost over 365 days, that's just a buck a day. If you use a pad of the same aggressiveness, it may take 10 in a day and a case may be $50. Clearly, the cost on a brush is far less when you look at the overall return on investment."
Q: How to do the cleaning results of brushes and pads compare?
A: "A brush spins at a much higher rpm than a pad, 1000-1500 rpm vs. 175 rpm. By moving that quickly, the brush gets a lot more touches on the floor than the disc. Also, traditional rotary machines spin horizontally and can only move from side-to-side. Cylindrical machines are multidirectional and can be maneuvered side-to-side, forward, and backward. All of that means cylindrical brushes produces a better quality of clean, getting more dirt off the floor in less time with less effort. "
Q: Cylindrical brush machines have floating pressure. Why is that a benefit?
A: "With cylindrical brushes, downward pressure is concentrated within the inch and a half of contact that the brush has with the floor to deliver about six times more pressure than a conventional disc unit. The floating head gives you more full-floor contact, but also allows the brush to adjust for high spots and low spots. When a pad is flat on the floor, it will deliver 100 PSI over high spots and low spots, and that can burn off high spots. Brushes are more forgiving for uneven floors. They can reach in and clean grout and texture lines where pads would just ride right over them."
Q: Pads come in a rainbow of colors for every cleaning situation imaginable. How do cylindrical brushes compare?
A: "One of the greatest benefits of cylindrical brushes is their flexibility. You can come up with any type of bristle you want for any type of cleaning. You can have a super-soft brush for polishing, a very aggressive bristle for stripping floors or etching concrete, and everything in between. I've seen 20 type of brushes you can put on cylindrical machines. There are wide range of styles."
Q: What are some other benefits of cylindrical brushes?
A: "Unlike pads, brushes have no issues with tearing or re-centering and they eliminate the need for costly laundering. Cylindrical uses 20-30 percent less water, and don't throw cleaning solution on baseboards and walls like pads. Also, square cylindrical machines can line up directly against baseboards to do a better job of cleaning edges and corners than round pad machines. Finally, cylindrical machines operate at just 67 dBa, making them ideal for hospitals, nursing homes, schools, and other facilities concerned with noise levels."
Q: Are there any cases when a pad is a better choice than a brush?
A: "A smooth pad on a 2000-rpm floor polisher is going to do a better job of polishing than a cylindrical brush. That's the only application I've seen where the brush doesn't beat out the pad. But janitors spend a whole lot more time cleaning a floor than polishing it. The time spent cleaning far outweighs the time spent polishing, and that's why a cylindrical far outweighs pad technology."
Q: What do you say to people who haven't tried cylindrical brushes?
A: "In this industry, a lot of people are creatures of habit. Someone who has always used disc machines is comfortable with them and has probably never explored cylindrical technology. But most of the people we convert would never go back to pads. They love the brush technology once they try it."
---
[et_bloom_locked optin_id="optin_5″]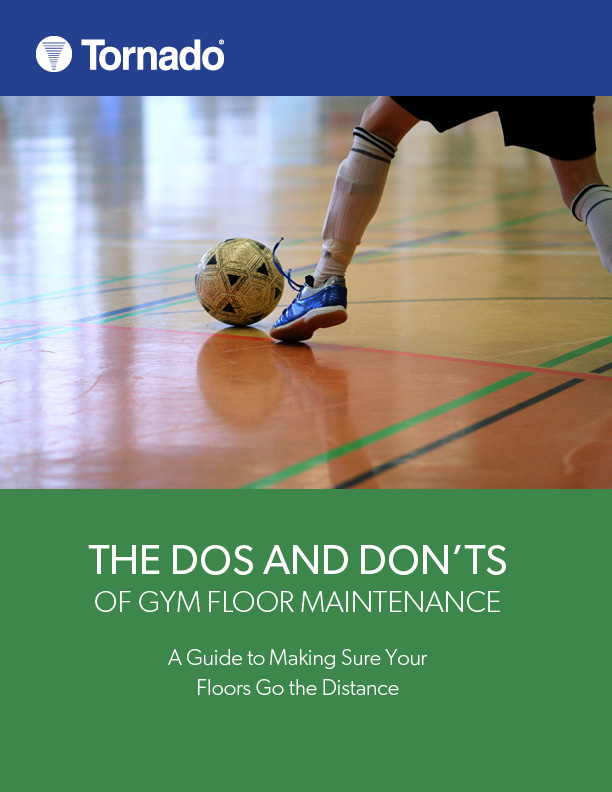 Gym floors take a pounding, and it can feel impossible to keep them looking gameday ready. Don't throw in the towel! Making sure your wood or rubber gym floors go the distance is no sweat when you follow these smart strategies.
Download[/et_bloom_locked]
---